How to generate Kotak Debit Card PIN using the mobile banking app?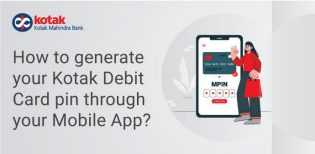 Unlock the powers of your Kotak Bank Debit Card by setting your PIN using the mobile banking app. Your PIN is an important passcode for all your transactions through the app and setting it up is easy!
How to generate Debit Card pin?
1) Log into Kotak mobile banking app and click on 'Service requests'
2) Select 'Debit Card/Spendz Card' and select 'Regenerate PIN'
3) Scroll to select the Debit Card you want to set the PIN for, following which you need to enter and confirm your new PIN
That's it! Your Debit Card is now ready to use!
Download the Kotak Mobile Banking app here – iOS | Android
You can also find us on YouTube |Twitter |  Instagram | Facebook