How to Scan & Pay using QR code in the Kotak Mobile Banking app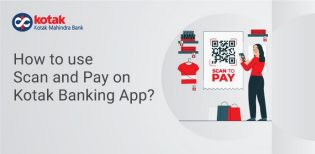 Contactless payments are the way to go nowadays, particularly because of the convenience they offer. When paying digitally, you don't need any other QR code scanner app as Kotak's Mobile Banking app has it all. The app enables you to do contactless payments with the 'Scan & Pay' feature. Use the feature to seamlessly pay merchants to buy groceries, medicines, etc., safely, without any physical interaction.
How to use the mobile banking app to Scan n Pay?
1. Go to the 'Pay & Transfer' section on the Kotak Banking App and click on the 'Scan & Pay' option
2. Scan the QR code and select your preferred method of payment - debit card, credit card, or VPA (UPI ID)
3. Enter the amount and tap on the 'Submit' button
That's it! That's how you do a contactless payment!