How to pay your mobile bills online with Kotak's Mobile Banking App?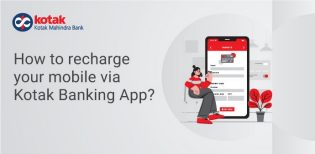 Data runing out? Don't just leave your couch yet as Kotak's Mobile Banking App has made mobile recharging simple! Follow the below steps to learn how you can recharge your mobile or pay bills easily.
Step 1 – Log into your Kotak Mobile Banking App
Step 2 – Tap on 'Bill Pay' under 'Pay and Transfer' section, after which you need to tap on 'Mobile'

Step 3 – Select your connection type (Postpaid/Prepaid), enter your phone number, and then choose the bank account you wish to pay from

Step 4 – After entering the amount and tapping on 'Continue', verify the details and pay!

Download the Mobile Banking App now: https://bit.ly/MobAppDownloadCR
Follow us on:
Twitter: https://twitter.com/kotakbankltd
Facebook: https://www.facebook.com/KotakBank/
Instagram: https://www.instagram.com/kotakbankltd/