How to manage Working Capital effectively?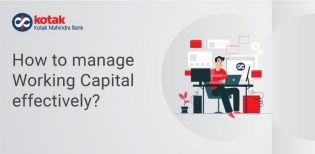 Working Capital is the liquidity available with companies to run their day-to-day operations. Adequate working capital is vital for companies to run smoothly as they need enough cash to make recurring payments, cover unexpected costs, and purchase materials to produce goods. This makes working capital management an essential chore for any business. 
Here are tips for efficient working capital management: 
1) Ensure that you have funds for increased demand
2) Avail multiple working capital financing
3) Choose simple overdraft facilities
4) Avail cash credit and overdraft facility
To make managing your business easier for you, Kotak offers customised working capital solutions for your needs. With a wide range of loan offers, be assured that you will find what your business needs! Apply for working capital now.
T&C apply
Download the Kotak Mobile Banking app here – iOS | Android
You can also find us on YouTube |Twitter |  Instagram | Facebook