Invest in Kotak Fixed Deposit or Recurring Deposit online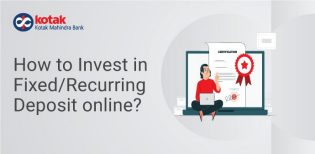 Reach your short- and long-term investment goals easily with Kotak's online fixed and recurring deposits. Log into your Kotak Mobile Banking App or Net Banking facility to get started today. 
1. Log into your netbanking account and select banking
2. Select 'deposit', then 'open a fixed/recurring deposit'
3. Select the deposit you want to open and add the required details. After this, click on submit
If you are using the mobile banking app:
1. Click on fixed/recurring deposit icon under banking
2. Select the deposit you want to open, add the required details and click on submit
Alternatively, you can also SMS FDRD to 5676788 or visit your nearest Kotak Mahindra Bank branch. For existing customers, you can also visit http://bit.ly/2sdZmGO and get started.

Download the Kotak Mobile Banking app here – iOS | Android 
You can also find us on YouTube |Twitter |  Instagram | Facebook