How to use mobile banking to find your loan information?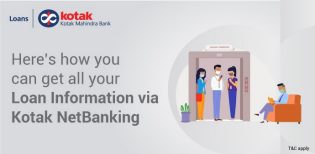 Using Kotak Mobile Banking you can easily raise requests regarding your loan, loan statements, and much more!
Here's how you can raise a request regarding your loan via the Kotak Mobile Banking App:
- Login to your 'Kotak Mobile Banking App'
- Select 'See More' on the Loans tab
- Tap on 'Loan Service Request'
- To initiate a new Service request, select 'Raise a new service request'
- Choose the 'Loan Category' that you want from the drop-down menu
- Select the 'Account Number'
- Choose the 'City'
- Enter details that are important for your request and hit 'Submit'
That's it!!
Download the Mobile Banking App now: https://bit.ly/3CixuC0
Follow us on:
Twitter: https://twitter.com/kotakbankltd
Facebook: https://www.facebook.com/KotakBank/
Instagram: https://www.instagram.com/kotakbankltd/