Enjoy control over your Debit Card using the Kotak Mobile Banking App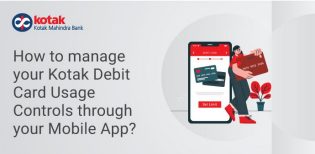 Your Kotak Debit Card's complete control is at your fingertips with our mobile banking app. Login to Kotak mobile banking to activate or block transactions on your Debit Card. You can also control your card's contactless, international, and POS payment setting through the app. 
How to take control of your Debit Card? It's easy!
1) Login to the Kotak mobile banking app and click on 'Service Requests'
2) Select 'Debit Card/Spendz Card'
3) Select 'Card Controls' and toggle to enable or disable features
Download the Kotak Mobile Banking app here – iOS | Android
You can also find us on YouTube |Twitter |  Instagram | Facebook